Paper and Panel proposals will all undergo peer review. For this reason, we will have a critical need for peer reviewers. Peer reviews assignments will be made as soon as papers come in, with deadlines ranging from 1 April to 31 May, depending upon when submissions are received.
Signing Up to Be Reviewer
AMP 2023 uses the Informing Science Institute's peer review system. To serve as a review, you should sign up for a colleague account. In filling out the data, be sure that you select the PSRC as a review option. You may, of course, choose to review for other journals (such as the Muma Business Review or Muma Case Review) but this will likely mean that you will receive review assignments outside the conference.
Depending upon the number of submissions and number of reviewers, you may expect up to three papers and/or panel proposals to review for the conference.
Signup Procedure
Step 1: Go to https://www.informingscience.org/
Step 2: If you have not already done so, select Sign Up

Step 3: After clicking Sign Up, sign up got a free Colleague Account. This will allow you to access the review system as a reviewer or as an author.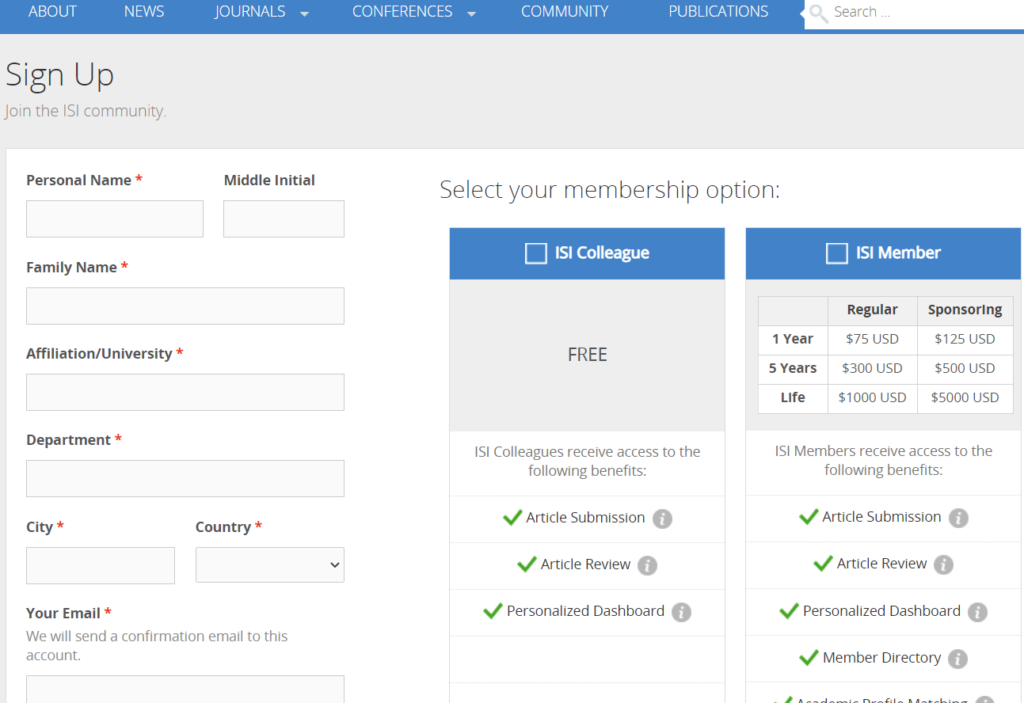 Note: You will need a headshot, roughly square, for this step. If you don't have one handy, you can use any photo, then edit it later in your profile. Similarly, to serve as a reviewer, you will need to have a CV available. This is used to assess the fit between reviewer applicants and the particular journal or conference an individual is applying to. It is only seen by editors and conference organizers.
Step 4: Log in to the system (if you are not already logged in) and access your dashboard, to edit your Profile.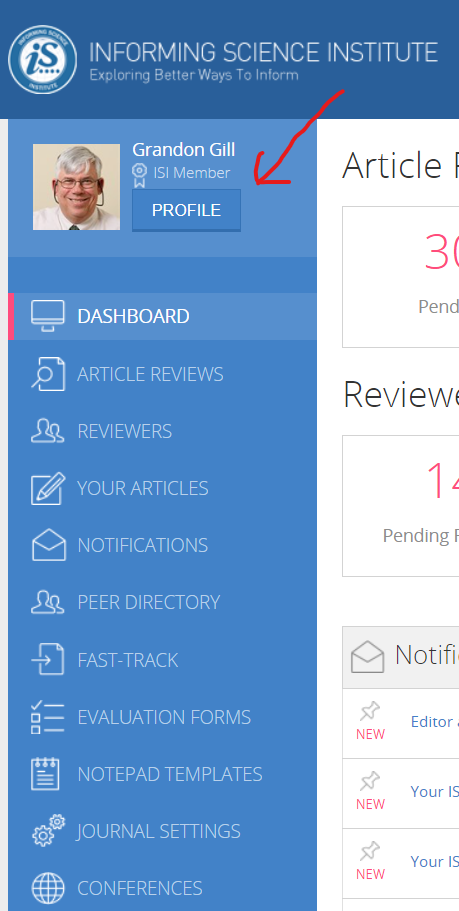 Step 5: Edit your profile elements in order to set yourself up as a reviewer

Step 5a: Personal Info includes a photo as noted above.
Step 5b: Account Info allows you to set and reset your password.
Step 5c: Academic Info is important since it allows us to prevent reviews being assigned to individuals in the same institution as the author. This is also where you will upload your CV, which must be present when you apply to be a reviewer.
Step 5d: Topics is where you specify topics for which you are willing to review. This is very important since it is used to identify reviewers that match the topic of a specific paper.
Step 5e: Reviewing Options is where you can sign up to be a reviewer. At the bottom of page, there were be a button where you can request to serve as a reviewer. If you have not already done so, you will need to upload a CV as part of this process. Be sure to select this conference (AMP 2023). You are also encouraged to consider reviewing for the Muma Business Review (MBR) and/or the Muma Case Review (MCR).