The Practitioner Scholar Research Conference accepts four types of submissions:
Submission Process
The PSRC uses the Informing Science peer review system. Making a submission is a two step process:
Sign up for a colleague account
Submit the document
Signing Up for a Colleague Account
To serve as an author or reviewer for the PSRC, you need an account with the review system. The process for signing up for account is as follows (these are essentially the same steps required to become a reviewer).
Step 1: Go to https://www.informingscience.org/
Step 2: If you have not already done so, select Sign Up

Step 3: After clicking Sign Up, sign up got a free Colleague Account. This will allow you to access the review system as a reviewer or as an author.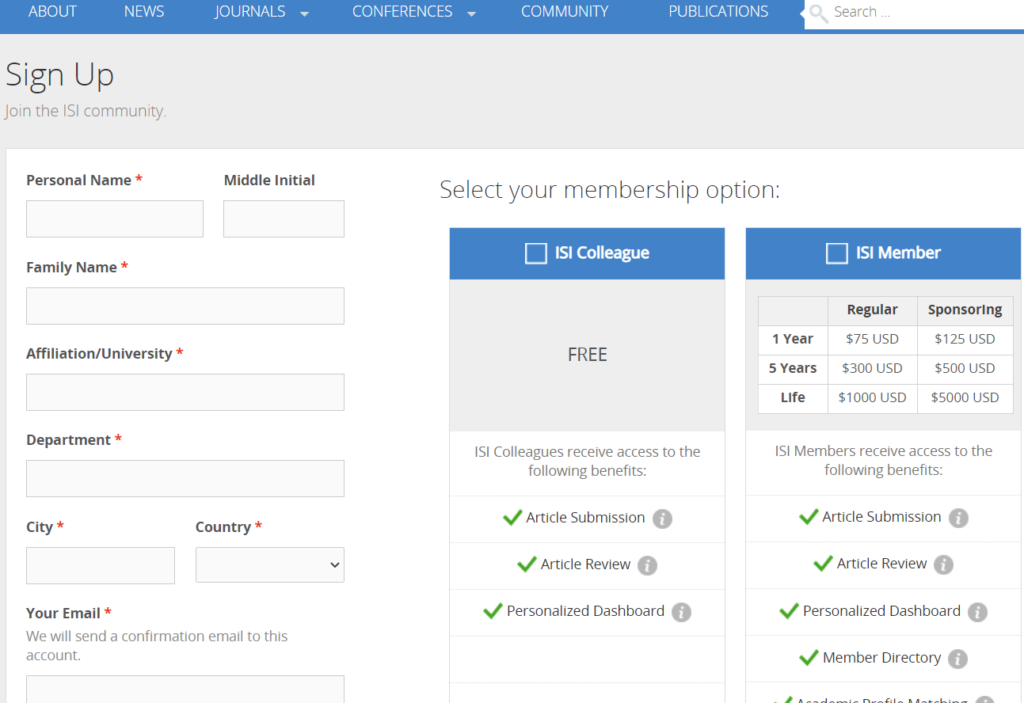 Note: You will need a headshot, roughly square, for this step. If you don't have one handy, you can use any photo, then edit it later in your profile. Similarly, to serve as a reviewer, you will need to have a CV available. This is used to assess the fit between reviewer applicants and the particular journal or conference an individual is applying to. It is only seen by editors and conference organizers.
Step 4: Log in to the system (if you are not already logged in) and access your dashboard, to edit your Profile.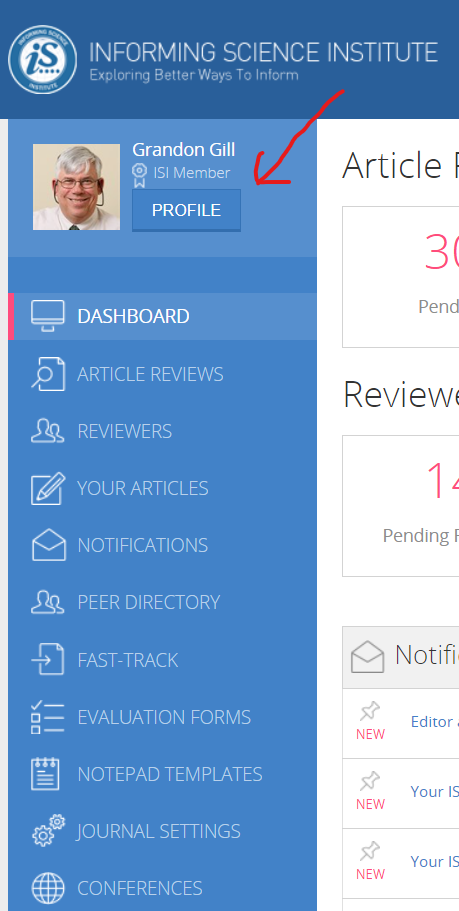 Step 5: Edit your profile elements in order to set yourself up as a reviewer

Step 5a: Personal Info includes a photo as noted above.
Step 5b: Account Info allows you to set and reset your password.
Step 5c: Academic Info is important since it allows us to prevent reviews being assigned to individuals in the same institution as the author. This is also where you will upload your CV, which must be present when you apply to be a reviewer.
Step 5d: Topics is where you specify topics for which you are willing to review. This is very important since it is used to identify reviewers that match the topic of a specific paper.
Step 5e: Reviewing Options is where you can sign up to be a reviewer. At the bottom of page, there were be a button where you can request to serve as a reviewer. If you have not already done so, you will need to upload a CV as part of this process. You are also encouraged to consider reviewing for the Muma Business Review (MBR) and/or the Muma Case Review (MCR) as well as signing up for this conference. Being a reviewer is not a prerequisite for submitting as an author.
Submitting to the PSRC
One you have an author account, the submission process is relatively straightforward.
Step 1: Log In and go to your dashboard.
Step 2: Select Your Articles from the side menu, then choose the Submit an Article button.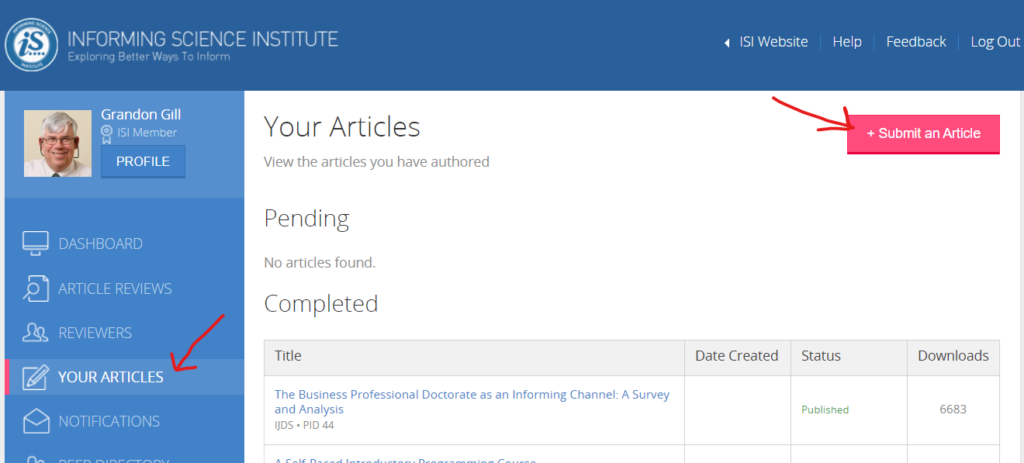 Step 3: Fill out the information describing the article.
Step 3a: Article Info will ask for a number of different types of information, such as where it is being submitted (select PSRC 2021) article type (from a dropdown list) and short sections that make up the abstract.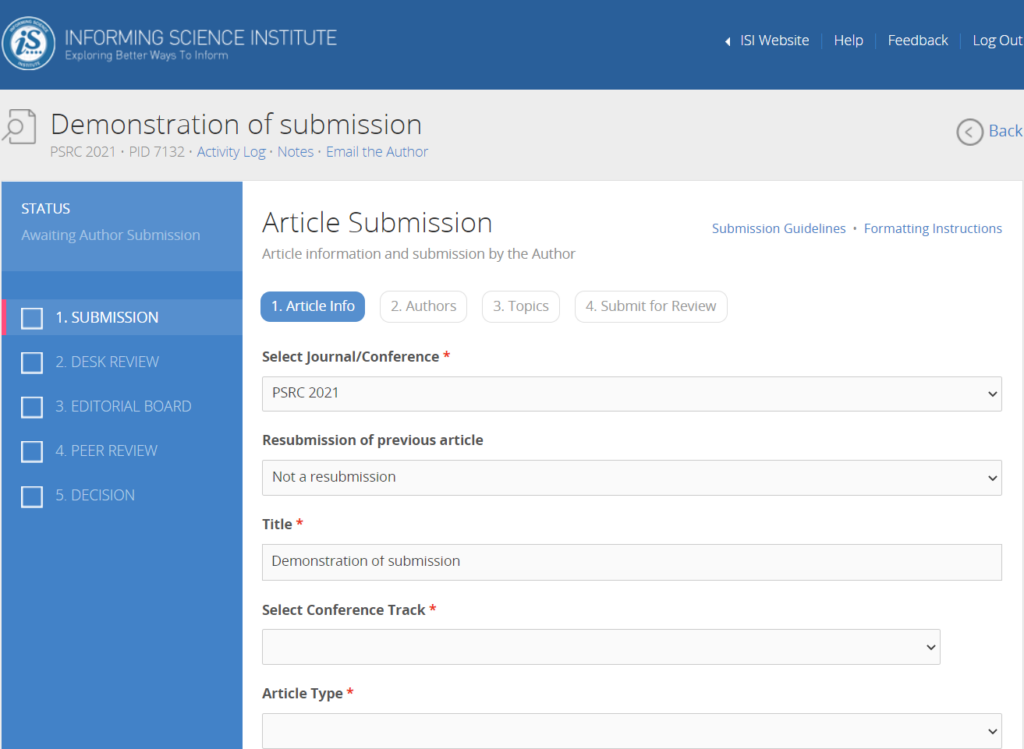 Step 3b: Author Info will ask you to add all your co-authors. They do not need to by ISI Colleagues but you must have valid email addresses, since a submission is not finalized until all co-authors have confirmed their authorship (the system does this by email).
Step 3c: Topics is very important because it will be used to match your submission to appropriate reviewers (regular and case study submissions, MBR and MCR submissions only–other types of submission are editorially reviewed).
Step 3d: Submit for Review is where you actually confirm submission and that the manuscript is not already under review elsewhere. As noted under Authors, the manuscript is not officially submitted until any co-authors have confirmed authorship.